Project Profile: CITYFOOD
Smart integrated multitrophic city food production systems – a water and energy saving approach for global urbanisation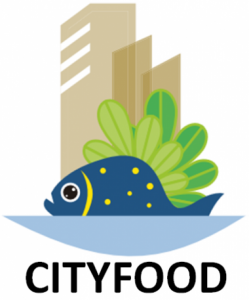 Who?
Principal Investigators:
Prof. Werner Kloas and Dr. Daniela Baganz, Leibniz-Institute of Freshwater Ecology and Inland Fisheries, Germany
Partners:
Ing. Toni Heindorf, SRP Gesellschaft für Stadt- und Regionalplanung mbH, Germany
Dr. Maria Celia Portella, UNESP - Universidade Estadual Paulista 'Julio de mesquita Filho', Brazil
Daniela Baganz, Forschungsverbund Berlin e.V., Institut für Gewässerökologie und Binnenfischerei, Germany
Dr. Karel Keesman, Wageningen University - Agrotechnology and Food Sciences, Netherlands
Siv Lene Skar, Norwegian Institute for Bioeconomy Research, Norway
Dr. Alyssa Joyce, University of Gothenburg - Department of Marine Science, Sweden
Prof. Gundula Proksch, University of Washington - College of Built Environments, United States
Sponsors:
What?
| | |
| --- | --- |
| Full Project Title: | Smart integrated multitrophic city food production systems – a water and energy saving approach for global urbanisation |
| Full Call Title: | Nexus2016 |
| Website: | |
Why?
Project Objective:
CITYFOOD will develop general concepts and urban planning strategies to implement improved IAAC systems at a much broader scale into cities. The complexity of the FWE Nexus will be addressed
by intertwining two threads –theoretical scientific research and applied research of IAAC implementations in cities
Call Objective:
The Sustainable Urbanisation Global Initiative (SUGI)/Food-Water-Energy Nexus is a joint call established in order to bring together actors to find innovative new solutions to the Food-Water-Energy Nexus challenge. The ultimate goal is to increase the access and the quality of life.
Where?
| | |
| --- | --- |
| Regions: | Europe, South America |
| Countries: | Brazil, Germany, Norway |
When?
| | |
| --- | --- |
| Duration: | 36 months |
| Call Date: | 2016-12-09 |
| Project Award Date: | 2018-02-15 |