Project Profile: Creating Interfaces
Building capacity for integrated governance at the food-water-energy-nexus in cities on the water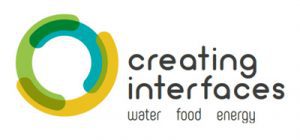 Who?
Principal Investigators:
Dr. Jochen Wendel and Pia Laborgne, EIfER Europäisches Institut für Energieforschung EDF-KIT EWIV, Germany
Partners:
Dr. Simon Jirka, 52°North Initiative for Geospatial Open Source Software GmbH, Germany
Dr. Wojciech Goszczynski, Nicolas Copernicus University - Institute of Sociology, Poland
Mag. Krzysztof Slebioda, Pracownia Zrownowazonego Rozwoju, Poland
Dr. Iulian Nichersu, Danube Delta National Institute for Research and Development, Romania
Phil lic Jacob von Oelreich, KTH Royal Institute of Technology - SEED, Sweden
Dr. Joao Porto de Albuquerque, University of Warwick - Centre for Interdisciplinary Methodologies, United Kingdom
Olga Wilhelmi, University Corporation for Atmospheric Research, United States
Andrea Sarzynski, University of Delaware - School of Public Policy and Administration, United States

Sponsors:
What?
Why?
Project Objective:
This project explores socio-technical interfaces at the food-water-energy (FWE) nexus in cities near
water. Aiming to increase urban sustainability, resilience, and quality of life, this project works to build
local capacity through innovative approaches in coordinated knowledge creation, governance and
exchange
Call Objective:
The Sustainable Urbanisation Global Initiative (SUGI)/Food-Water-Energy Nexus is a joint call established in order to bring together actors to find innovative new solutions to the Food-Water-Energy Nexus challenge. The ultimate goal is to increase the access and the quality of life.
Where?
| | |
| --- | --- |
| Regions: | Europe, North America |
| Countries: | Poland, Romania, United States of America (USA) |
When?
| | |
| --- | --- |
| Duration: | 36 months |
| Call Date: | December 9, 2016 |
| Project Award Date: | February 15, 2018 |