Project Profile: GULLS
Global learning for local solutions: Reducing vulnerability of marine-dependent coastal communities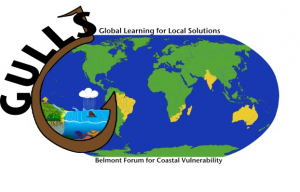 Who?
Principal Investigators:
Kevern Laurence Cochrane, Rhodes University, South Africa
Partners:
Alistair Hobday, CSIRO Marine and Atmospheric Research, Australia
Gonuguntla Syda Rao, Central Marine Fisheries Research Institute, India
Maria Gasalla, University of São Paulo, Brazil
Ekaterina Popova, National Oceanography Centre, United Kingdom
Adina Paytan, University of California Santa Cruz , United States
Hajanirina Razafindrainibe, Service D'Appui La Gestion De L'Environnement*
Candida Savage, University of Otago* , Canada
Grant Murray, University of Victoria*, Canada
Almeida Tomas Guissamulo, Eduardo Mondlane University*, Mozambique
Paul Shaw, Aberystwyth University*, Wales
Chris Hill, University of Southampton, United Kingdom
Craig Hutton, University of Southampton, United Kingdom
Philip Dearden, University of Victoria, Canada
*partners bringing their own funding/in-kind support
Sponsors:
Commonwealth Scientific and Industrial Research Organisation, Australia
São Paulo Research Foundation, Brazil
Ministry of Earth Sciences, India
National Research Foundation, South Africa
National Environment Research Council, United Kingdom
Economic and Social Research Council, United Kingdom
National Science Foundation, United States
What?
Why?
| | |
| --- | --- |
| Project Objective: | This project will contribute to improving community adaptation efforts by characterizing, assessing and predicting the future of coastal-marine food resources through the provision and sharing of knowledge across regional 'hotspots,' defined here as fast-warming marine areas and areas experiencing social tensions as a result of change. |
| Call Objective: | The purpose of this call was to promote the development, comparison and transfer of coastal scientific approaches. The focus was on the vulnerability, resilience and adaptation options of coastal societal, managed and natural systems to multiple drivers. |
Where?
| | |
| --- | --- |
| Regions: | Arctic, Asia |
| Countries: | Japan, Jordan |
When?
| | |
| --- | --- |
| Duration: | 36 months |
| Call Date: | 2012 |
| Project Award Date: | 2012 |