Project Profile: BanD-AID
Collaborative Research: Bangladesh Delta: Assessment of the Causes of Sea-Level Rise Hazards and Integrated Development of Predictive Modeling Towards Mitigation and Adaptation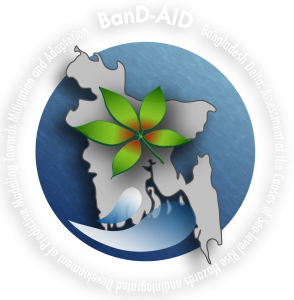 Who?
Principal Investigators:
C. K. Shum, The Ohio State University, United States
Partners:
Jurgen Kusche, University of Bonn, Germany
Boris Braun, University of Cologne, Germany
Fabrice Papa and Stephane Calmant, Observatoire Midi-Pyrenees, France
J. Craig Jenkins, The Ohio State University, United States
Faisal Hossain, Tennessee Technological University, United States
Zahirul Khan, Institute of Water Modelling, India
Michael Kuhn, Curtin University, Australia
Raquib Ahmed, University of Rajshahi, India
Sponsors:
French National Research Agency, France
German Research Foundation, Germany
National Science Foundation, United States
What?
| | |
| --- | --- |
| Full Project Title: | Collaborative Research: Bangladesh Delta: Assessment of the Causes of Sea-Level Rise Hazards and Integrated Development of Predictive Modeling Towards Mitigation and Adaptation |
| Full Call Title: | Coastal2012 |
| Website: | http://belmont-bandaid.org/ |
Why?
Project Objective:
Band-AID proposes to build a robust Belmont Challenge identified Earth System Analysis & Prediction System (ESAPS) for Bangladesh, to adapt/mitigate the detrimental hazards including sea-level rise.
Band-AID will quantify (1) causes of sea-level rise and land motion and their robust vertical datum link, and (2) human interactions that governs coastal vulnerability in Bangladesh. This knowledge will be used for the integrated development of a natural and social science framework employing robust predictive modelling towards the adaption of sea-level rise and other hazards in coastal Bangladesh.
Call Objective:
The purpose of this call was to promote the development, comparison and transfer of coastal scientific approaches. The focus was on the vulnerability, resilience and adaptation options of coastal societal, managed and natural systems to multiple drivers.


Where?
| | |
| --- | --- |
| Regions: | Asia |
| Countries: | Bangladesh |
When?
| | |
| --- | --- |
| Duration: | 36 months |
| Call Date: | 2012 |
| Project Award Date: | 2012 |