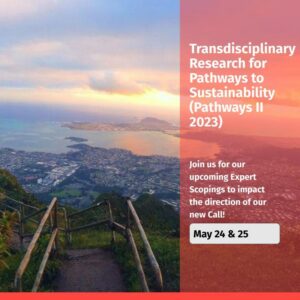 The Belmont Forum has begun the process of "scoping" the new Pathways to Sustainability II Collaborative Research Action to develop a well-informed Call for Proposals focused on critical issues. Are you an expert in sustainable development research and the Sustainable Development Goals? We want to hear from you! We seek a transdisciplinary perspective involving social sciences and stakeholders. We are offering two sessions to accommodate global time zones.Please click the link/s below and register for the event to receive the zoom link. 
May 24, 2022 at 11:30 pm EST: https://nsf.zoomgov.com/meeting/register/vJItdOmupzItGJ4W_gJwCbSKNc93xX-WElE
May 25, 2022 at 9:00 am EST:
 https://nsf.zoomgov.com/meeting/register/vJIsf-uoqT0tE94yyNXHwItInLFdOKC2yAA
Background: 
The National Science Foundation is the Thematic Programme Office collaboratively working to develop the second phase of "Transdisciplinary Research for Pathways to Sustainability" call. The first phase provided support for networking activities to prepare collaborative projects that support transdisciplinary networks. Focusing on cross-cutting themes across a minimum of three Sustainable Development goals, networking projects sought to develop innovative solutions and/or synthesize positive and negative inter-linkages between the economy, technology, institutions and the environment, climate, biodiversity, and human well-being.